Building Scientific Data Pipelines for Jupyter in Docker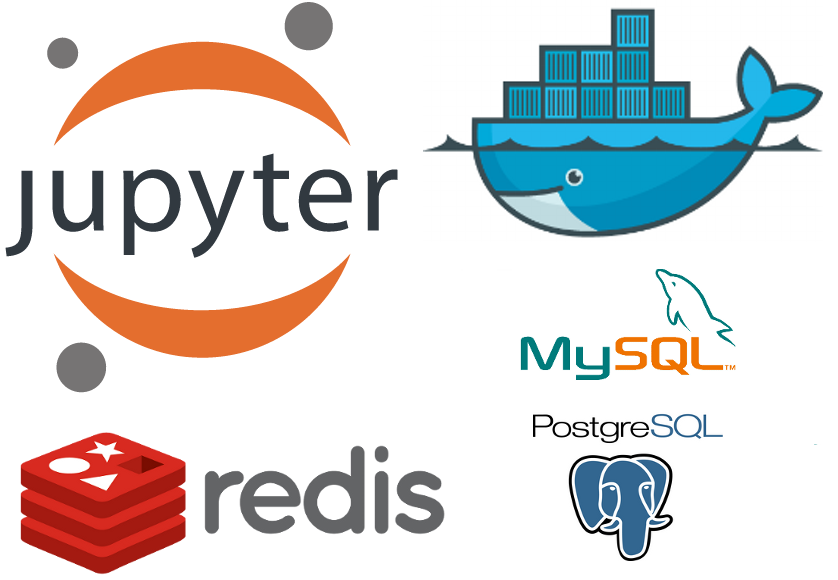 Sci-Pype is a framework for building data science pipelines. It uses a specialized Jupyter docker container extended from the original https://github.com/jupyter/docker-stacks that already support Python 2, Python 3, R, and Julia notebooks. I use sci-pype for machine learning, data analysis, data-sharing, model refinement, and stock analysis projects. It contains a python 2 core for making it easier to integrate with external databases and redis servers, debugging with slack, and colorized notebook logging.
This core was originally built to datamine news releases in near-real time. Now I use it for analyzing, exchanging and sharing data with Jupyter. With this core, I build machine learning models that are published and persisted as JSON or serialized objects using pickle. These models are deployed and tested with a load-balanced redis cluster.
Please note this is a large docker container so it may take some time to download and it extracts to ~6.8 GB on disk.
GitHub Repository: https://github.com/jay-johnson/sci-pype
Overview
The docker container runs a Jupyter web application. The web application runs Jupyter Notebooks as kernels that can be implemented in Python 2, 3, R, or Julia. For now the examples and core included in this repository will only work with Python 2.
This container can run in three modes:
Local development

To start the local development version run: start.sh

You can login to the container with: ./ssh.sh

Full Stack

To start the full stack mode run: compose-start-full.sh

The full-stack-compose.yml will deploy three docker containers using docker compose:

Standalone Testing

To start the full stack mode run: compose-start-jupyter.sh

./

compose

-

start

-

jupyter

.

sh




The jupyter-docker-compose.yml is used to deploy a single Jupyter container.
Working Examples
This document details the following examples. Please refer to the examples directory for the latest.
Components
Python 2 Core

The PyCore uses a JSON config file for connecting to redis servers and configurable databases (MySQL and Postgres) using SQLAlchemy. It has only been tested with the Python 2.7 kernel.

Local Redis Server

When starting the container with ENV_DEPLOYMENT_TYPE set to anything not JustDB, the container will start a local redis server inside the container on port 6000 for iterating on your pipeline analysis, model deployment and caching strategies.

Loading Database and Redis Applications

By default the jupyter.json config supports multiple environments for integrating notebooks with external resources. Here is table on what they define:

Inside a notebook you can target a different environment before loading the core with:

Changing to the JustRedis Environment:

import

 

os




os

.

environ

[

"ENV_DEPLOYMENT_TYPE"

]

 

=

 

"JustRedis"




core

 

=

 

PyCore

()




Changing to the NoApps Environment:

import

 

os




os

.

environ

[

"ENV_DEPLOYMENT_TYPE"

]

 

=

 

"NoApps"




core

 

=

 

PyCore

()




Customize the Jupyter Container Lifecycle

The following environment variables can be used for defining pre-start, start, and post-start Jupyter actions as needed.

Slack Debugging

The core supports publishing exceptions into Slack based off the environment variables passed in using docker or docker compose.

Tracking Installed Dependencies for Notebook Sharing

This docker container uses these files for tracking Python 2 and Python 3 pips:

/opt/work/pips/python2-requirements.txt
/opt/work/pips/python3-requirements.txt

Shared Volumes

These are the mounted volumes and directories that can be changed as needed. Also the core uses them as environment variables.

| Host Mount | Container Mount | Purpose |
| --- | --- | --- |
| /opt/project | /opt/project | Sharing a project from the host machine |
| /opt/work/data | /opt/work/data | Sharing a common data dir between host and containers |
| /opt/work/data/src | /opt/work/data/src | Passing data source files into the container |
| /opt/work/data/dst | /opt/work/data/dst | Passing processed data files outside the container |
| /opt/work/data/bin | /opt/work/data/bin | Exchanging data binaries from the host into the container |
| /opt/work/data/synthesize | /opt/work/data/synthesize | Sharing files used for synthesizing data |
| /opt/work/data/tidy | /opt/work/data/tidy | Sharing files used to tidy and marshall data |
| /opt/work/data/analyze | /opt/work/data/analyze | Sharing files used for data analysis and processing |
| /opt/work/data/output | /opt/work/data/output | Sharing processed files and analyzed output |
Getting Started
Deleting the Containers
Remove the containers with the command:
$ docker rm jupyter redis-server stocksdb
jupyter
redis-server
stocksdb
$

Delete them from the host with:
$ docker rmi jayjohnson/schemaprototyping
$ docker rmi jayjohnson/jupyter
$ docker rmi jayjohnson/redis-single-node